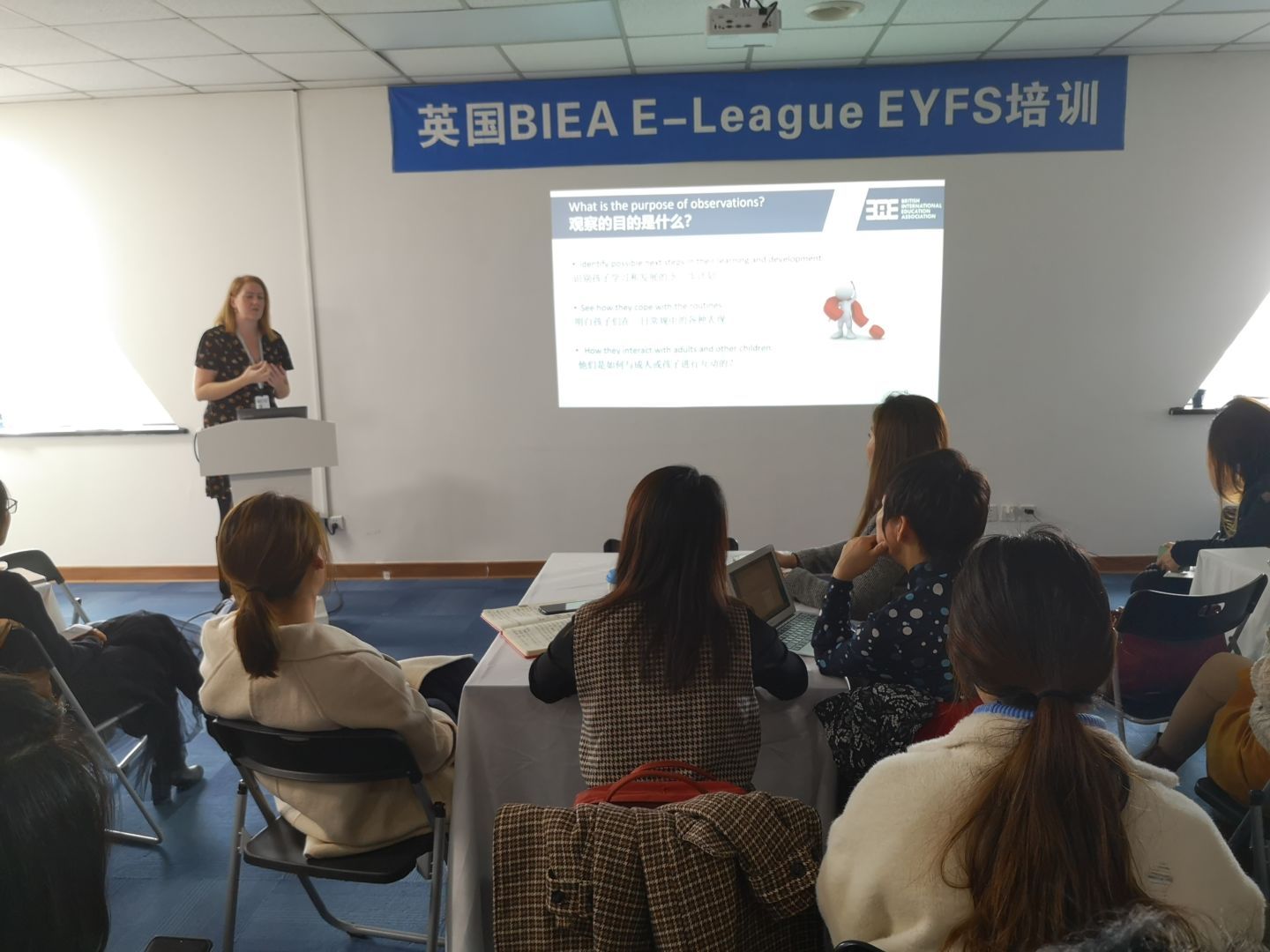 On November 25, the BIEA successfully completed the EYFS (0-3 years old) childcare training in Beijing, introducing the cutting-edge British EYFS education framework. Laura Rathbone, a senior lecturer of the BIEA Early Years League (E-League), brought a unique EYFS education lecture to teachers, sharing her rich EYFS teaching experience. The trainees laid a solid foundation of EYFS in the two-day study, and they had a practical session in the Windsor Bilingual Kindergarten on the last day. They obtained the British Vocational Training Continuing Professional Development (CPD) certificate afterwards.
Laura focused on the age characteristics of children aged 0-3, and interpreted EYFS childcare and daily teaching from different perspectives such as the EYFS conservation and education programmes, and the EYFS teaching cycle (observation, evaluation and planning). The trainees received guidance on the problems encountered during these stages. In addition to the positive interaction, the information Laura shared inspired the teachers, giving them new ideas about their own teaching methods. Some trainees commented that the training has reshaped their understanding of childcare and education.
The teachers are now interested in BIEA E-League's latest 0-3 year-old thematic courses, and some are interested in using British teaching aids.
On the last day of the course, the teachers visited a Chinese nursery – Windsor Bilingual International Kindergarten – adopting the British EYFS teaching framework. The school's teaching director, Wendy Weng, relayed her own EYFS knowledge to the teachers.
In China, daycare education has increasingly attracted attention from early years educators in conjunction with changes in the market. Everyone is enthusiastic about learning the advanced education concepts of British EYFS, in order to help them create a better education environment for young children. The EYFS (0-3 years old) childcare training courses run by the BIEA E-League have garnered wide attention from early years educators across China. In the future, while maintaining the quality of training, BIEA E-League will share further details of the BIEA Early Years League Qualification (ELQ) accredited nurseries and British early years education study tours.