15 Jan 2020 (London, UK) – The British International Education Association (BIEA) brought together experts in plastic recycling, coastal marine science and waterway conservation to discuss the issue of plastic pollution at a half-day conference at London's Royal Institution.
An international audience made up of STEM experts, industry professionals, representatives from the Chinese and Polish embassies in London and numerous educators from the UK, China, Venezuela and Nigeria listened to presentations and a discussion about the issue of plastic pollution, and how a STEM education can help young scientists become part of the solution.
A giant marine animal made out of clear plastic bottles provided a visual reminder of the issue of plastic waste, and was the centrepiece for the launching of the BIEA's international STEM Youth Innovation Competition [hyperlink: http://www.bieacompetition.org.uk.]  Student teams are invited to research, write a report and design a solution to 'Save our shores from plastic waste through STEM,' with finalists moving on final rounds in June/July 2020. Open to anyone between the ages of 9 and 21 years old, the winning teams from 9-17 age group will take cash prizes to contribute to their school STEM labs, and the 18-21 age group from universities will take part in the 'University Challenge' and become youth STEM ambassadors.
Last year's competition asked young people aged between 9 and 17 to think about how drones could help conserve an endangered animal species. The competition reached schools in 34 countries and teams from 18 different countries make it to the final in the UK to present their ideas. This year the BIEA anticipate even larger participation as they have extended the age range to include college and university entries.
Anna and Daisy, now Y11s from team 'Burnkool' at Kent College in the UK explained how the competition helped them 'develop our ability to work as a team, as well as raise our awareness of current global issues. We learned new skills and how to overcome challenges with our design. We got to experience new innovative technology and were able to apply it to real-life scenarios. The fact that what we were doing could really help in the future was a strong motivation to give our all to the project, which really helped us to progress as a group.' Their teacher Head of Design & Technology Mike Cloke says, 'it was fantastic to have so many students from different subject areas pooling thoughts. The two teams that made it through to the finals in London had an amazing day; they were pushed out of their comfort zones, had their efforts celebrated, rode a boat along the Thames and slept for the entire journey back to Canterbury – perfect!'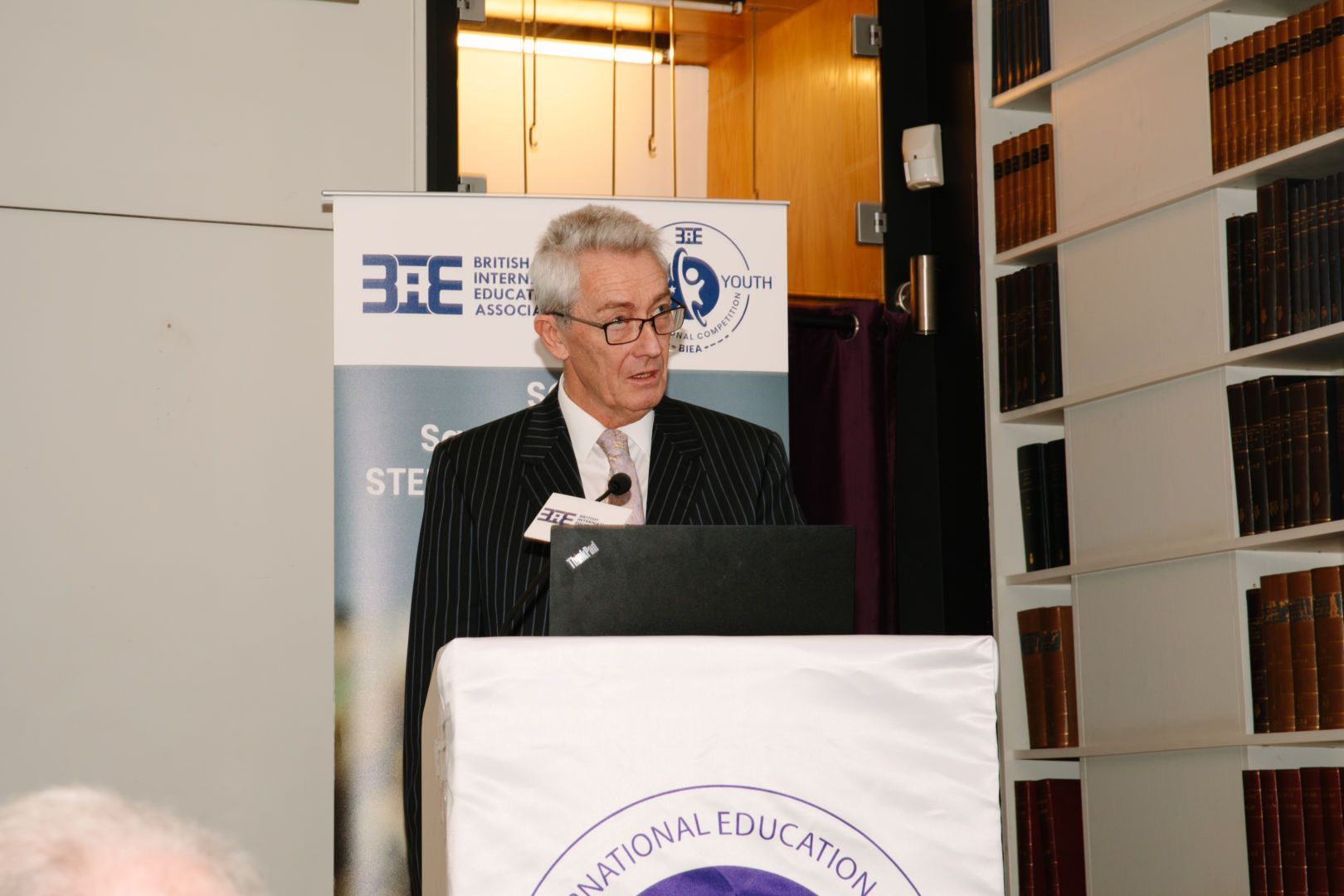 David Hanson, BIEA STEM Chairman
BIEA's STEM Chairman David Hanson, who made his own radio as a youngster says the competition aims to capture the imagination and interest of young people, highlighting STEM as a force for good. Young scientists, technologists, engineers and mathematicians can think outside the box and invent extraordinary solutions to the global problem of plastic pollution.
Mechanical Engineer Manu Mulakkal from Imperial College London talked about the challenges of recycling multi-layered packaging. The production of PET (Polyethylene terephthalate) has almost doubled since 2014 and despite improvements in mechanical and chemical recycling methods much more needs to be done to create plastics or packaging that can be more easily recycled as well as increase demand for recycled materials. Since the 5p plastic bag charge was introduced in England in 2015 their use has gone down by 80%, but the average English household still holds 54 'bags for life', made of much stronger plastic which is more difficult to process. Mulakkal says technology alone cannot solve the problem of plastic pollution; 'technology, industry, policy and increasing public awareness about recycling and the lifespan of plastic – all play an important role.'
Coastal Marine Scientist Heidi Burdett from Heriot-Watt University introduced us to Maerl, the red seaweed that provides vital shelter for marine creatures in the coastal beds around the UK. Most people are aware of the degradation of the Great Barrier Reef in Australia, but largely unaware of the slow-growing reefs threatened by temperature rises in the seas around the British Isles.   A striking graphic created by Ed Hawkins shows how temperatures have increased in the years since 1848 and Burdett explained how the sensitive Maerl reefs are already showing signs of being overtaken by opportunistic species which can survive in warmer waters. She's already striving to reduce her carbon footprint, and on the topic of plastic pollution points out that, 'even if we took away all the plastic straws ever made we'd still have climate change'.
Prof. Ed Hawkins colour block – indicating temperature change over the years
Conference speakers and panelists all emphasised the importance of collaboration if plastic pollution is to be tackled. Waterway charity Thames 21 mobilises volunteers to clean up areas of the London riverbanks. Deputy CEO Chris Coode explained how the disposal of domestic wet wipes is actually changing the shape of the river bed as they get caught up with twigs and branches in the Thames. In one clear-up, locals counted 220 wet wipes in a single square metre of river bed! 'Clear-up volunteers go on to be ambassadors for the charity, collecting data on smartphones and feeding it back to our organisation. Putting tech in the hands of people is how we can help solve the problem of pollution. After an energetic clear-up, many of our volunteers vowed they'd never use a wet wipe again!'.
In a lively discussion about whether STEM education can save the planet, Imperial College mathematician Lynda White and British Council Science Adviser Adrian Fenton talked about how to engage young people in STEM, promote best practice and attract the best graduates to teaching STEM subjects. Rick Chandler, who has over thirty years' board experience in technology in global companies and organisations talked about what employers want in a STEM education and Kelly Smith of the Royal Society stressed the importance of a broad, balanced and connected education system to promote excellence in science. Educator and founder of coding4kids Nagashilpa Seethamraju compared the STEM environments in the US and India, and shared her top tips for teams wanting to take part in the BIEA's international STEM Youth Innovation Competition. She coached two successful teams in last year's competition and is intending to help over ten teams come up with solutions to this year's challenge.